A tooth implant is now the preferred solution for the replacement of a rotten, broken down or missing tooth. The extraction, tooth implant insertion and fitting of a new tooth is expertly completed in one dental sitting. In some instances the whole procedure may be completed in less than 2 hours.
---
What is a Tooth Implant?
A single tooth implant or dental implant is a titanium post that is placed in your jawbone to replace the root of your missing tooth. The part of the tooth above the gum line is replaced with an artificial crown.
The reason why it works is because the titanium post is biologically accepted by the bone and provides a unique solution which is truly bionic. The new tooth implant is exceptionally strong, long lasting and natural looking.
Tooth implants have been part of dentistry for over 50 years. Swedish and Swiss research terms in the late 1960's and 1970's respectively developed implant designs and surgical techniques that led to the current "state-of-the-art" implants.
---
Why a Tooth Implant?
There are many reasons why a tooth implant would be the preferred method of tooth replacement than the traditional bridge solution. In particular:
Having a tooth implant or dental implant will prevent the continued bone loss that occurs from missing teeth. Dental implants not only stabilise the bone around them, but maintain bone dimension and strength. Bone loss may change facial features and particularly result in a more aged appearance
A tooth implant is the most economical and superior clinical long term solution for tooth replacement available
With proper care and maintenance a tooth implant can last a lifetime
Dental implants have now been part of dentistry for over 50 years and without doubt are now and will continue to be the preferred method of tooth replacement in modern dentistry
---
Tooth Implant Options
The options for tooth replacement using a tooth implant are assessed at your initial consultation, when a clinical analysis of your oral condition is made, using CT scans, x-rays and full diagnostics. Consideration is also given to your financial option so that the recommendation by the dental implant specialist is best for you both clinically and financially.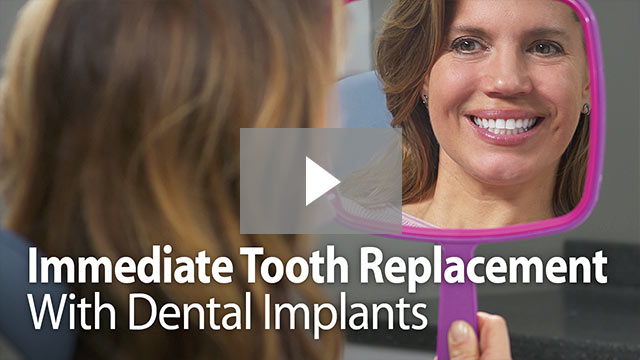 The likely recommended tooth implant options are as follows:
Implant Placement Only (mainly posterior and non-visible teeth):

In this instance after the implant is placed/positioned and any grafting completed, tissue is grafted over the implant and the original tooth will not be replaced during the healing period.

Implant Placement with Temporary Tooth Replacement (mainly anterior or front upper teeth)

In this instance after the implant is placed/positioned and any grafting completed a healing abutment is attached to the implant, which in turn is covered by a "suck-down" retainer or one of several types of removable prosthetic devices.

Implant Placement with Provisional Acrylic Crown (and abutment):

This is the Same Day TeethTM option which provides the best aesthetic solution during the minimum 3 month healing period. However in the long term it will be more expensive and not always recommended.

Long Term Restoration (This is not an alternative but the final step in the tooth replacement process):

After completion of 1, 2 or 3 above and a minimum period of 3 months during which time the implant has satisfactorily healed, the patient is fitted with a long term, long lasting and highly aesthetic crown. This is the gold standard for tooth replacement an outcome matching that of your natural tooth.
---
What are the Benefits of a Tooth Implant
A tooth implant is the gold standard replacement for a natural tooth
It allows you to eat all the foods that you would normally eat
A tooth implant stops the mobility and discomfort that may occur with a removable denture
Also prevents adjacent teeth from moving and creating alignment problems
Tooth implants stimulate and preserve the remaining bone and more importantly stops bone loss
They have a positive psychological impact with the feeling of being truly rehabilitated – no more missing teeth!
And each tooth as good as new!
---
FAQs for Tooth Implant
Following is the list of frequently asked questions about a Tooth Implant:
About Tooth Implant Cost
What is the Tooth Implant Process
About Tooth Implant Cost in Australia